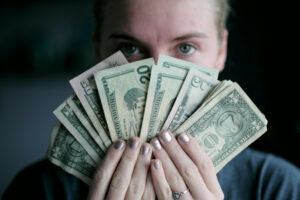 As you enter the world of making money online and you took the decision to become an affiliate marketer, you might be wondering: "How to make money with affiliate marketing for beginners?"
There are different ways to make money with affiliate marketing, some are more beginners friendly than others.
Some of them include bloggin, email marketing, running ads, done-for-you systems, using social media, becoming an influencer and building a YouTube channel.
Keep in mind that you are on a journey to create your own online business. There will be a lot to learn and a lot to do. Be ready for this. No matter which way you choose, stick to it for at least 6 months before you try doing something new.
Becoming an affiliate marketer is a process. You need to focus on your goal, which hopefully is not only money. If you are in this business only for money, you won't last long enough to get the results you want.
You need a deeper will than making money online. It will be easier to commit yourself to success when everything isn't about making as much money as fast as possible.
I have noticed that some training providers are starting to change their approach. They are more willing to tell you how long it could take for you to start earning money online. I think this approach will help many to stay on track and not lose focus from their goals.
Here, I'm going to share with you different methods to do affiliate marketing. Be aware that each method requires you to learn and requires you to develop new skills.
*May contain affiliate links. Clicking on the affiliate links will most likely result in the same price you would pay elsewhere or you may get a special offer using those links.
Ways to make money with affiliate marketing for beginners
For each method, you don't need to be tech savvy. You do need to be able to learn, to put time and efforts in order to see results.
If anyone promises you that you can make money fast, run away! Chances are it's a scam.
Blogging
It's the very basic way to start affiliate marketing. Create a website and start creating content related to your niche.
Everything online gets easier to create, for everyone. There are many companies out there that have created platforms to help you build your website.
Since you are an affiliate marketer, your strategy will be to build your website up to a minimum of 15 posts so you can apply to different affiliate programs. It gives you a wider range of programs compared to someone who doesn't have a website.
You are building your authority in your niche. Keep in mind that you are building a business, so you will be more credible to your audience with a website than without.
I feel like blogging is the best way to get started as an affiliate marketer. There is a good place where you can start learning for free. It helps you develop your style and it helps you become a copywriter.
So now that you have built a website and that you have been approved in some affiliate programs, choose a product you like, grab your affiliate links and talk about it in your blog. As simple as that.
You may be tempted to apply to Google AdSense, to earn some money when people click on the ads on your website. Consider this: the human attention span is 8 seconds. Do you really want your readers to get distracted with an ad when you would like them to click on your affiliate link instead?
When you are good at writing content and you are getting people to click on your affiliate links, there is no problem in having ads on your website. It can be a great source of income. You get to choose what you think is best for you.
There is a minimum requirement of monthly visitors to your website to be approved for AdSense and other ads companies.
As your website grows, you will get more visitors. The more traffic you get, the more likely people are going to click the links, the more likely you will earn commissions.
Email marketing
Have you heard that email marketing is dead? What let me assure you it's not. Email marketing has been around for years and isn't going anywhere. 90% of people check their emails at least once a day.
To get started, you might have to spend a little more money than if you were building a website. You will need ways to attract people to your email list and most of them need you to invest money.
If you are building a website, you can link email marketing to your website so you will get new subscribers on a regular basis when you get good traffic. It's the cheapest way to do it.
With email marketing, you will be able to create a good relationship with your subscribers. You will be able to talk about the products you want to promote.
If you want to start affiliate marketing with an email list, the best place to get affiliate products without building a website is ClickBank.
Since you are getting started, you want to choose the products that are already best-sellers in your niche. They are proven products and you won't be promoting a bad choice to your list.
To grow your list without a website, you will need to invest money to promote your list to people. There are different ways to do that and you want to have a minimum of $500 to invest in advertisement. It's a small investment to make to be able to make more in a few months.
When you start earning some money, then you can reinvest it to grow your list even more. After a couple months, you should be able to make enough money to keep some and to reinvest to grow more.
Done-For-You systems
There are a few done-for-you systems out there that were made to help beginners make money online without having to spend too much time learning new skills and without having to wait months before seeing a return on your investment.
You can go in the Webinars section, you will see some types of systems available. They vary from the type of products you promote to the type of platform you use and how everything works.
You still need to put in some efforts, but a little less than starting everything from scratch.
Most of these systems include training and life-time access to their platform.
With these systems, you are provided many tools to help you make money as an affiliate marketer. Be careful not to fall for a program where you end up promoting their products. Being able to promote others' products is free. If you have to pay, it's a multi-level marketing scheme. Make sure you know what you are putting your money in to.
Done-for-you systems are more expensive. They cost around $1,000. That's a bigger upfront cost. You want to make sure the system is something you will enjoy doing. Some of them offer a good money-back guaranty.
Know that you may have to get more money out of your pockets to invest in ads.
The done-for-you systems try to simplify the whole process of affiliate marketing. They are different and use different ways to reach your goal, which is often to make money while you sleep.
Some systems are designed for a particular niche or industry. You may want to choose a niche before you decide on joining a done-for-you system. Why, because you want to be doing this on the long term and if you are not enjoying the products you are promoting or if you have no interest in the niche, it will be much harder for you to stay for the long run.
Build your YouTube channel
You can be an affiliate and promote your products on YouTube via the videos you create on a regular basis.
You don't need anything fancy to get started, your smartphone will be enough.
Again, you will need to choose a niche. Something you know you can talk about for hours. It will be easier to create your content.
You will need to find affiliate programs to have products to promote. you talk about them in your videos and you leave your affiliate links in the description of the video.
You will need to grow your channel to about 100 videos before YouTube starts giving you some love. The goal is for people to stay as long as possible on YouTube so they see more ads and YouTube gets paid.
So if you don't have a lot of videos, people won't be able to binge your content just yet. So getting started will require patience and consistency.
Make sure you broadcast live videos once a while. Also, try to have captions or subtitles for your videos. YouTube likes that and it will help your content show up when someone searches for something related to your niche.
When you start earning money, then you can invest in some more professional equipment.
Being an influencer
Well, they are affiliates in some way. They are getting paid to promote other people's products.
All you need to do is to grow the number of your followers and have them being active on your page. Sounds simple, but it can be a challenge.
If you love social media and you already have over 1,000 active followers, you may enroll in affiliate programs and start promoting something relevant to what you are on social media.
From there, some people may approach you for promotional shout-outs. All you have to do is promote the product on your page for a certain amount of time and you get a cut on the sales you generate.
There are scams out there too. If you are being approached by someone with numbers in their account name telling you they want you as an ambassador and you have to contact their main page and then they ask you to pay for the products, offering you a discount, run!
A real company will get in touch with you preferably by email. Make sure it is accessible on your profile. Some affiliates may get in touch with you through direct message. They won't give you a discount code so you have to buy their products.
You will be offered a mini collaboration in exchange for money. You can ask for a certain amount upfront or you can ask a percentage of the sales you help generate.
If you like being present on social media and you can handle growing your audience, without paying for people to follow you, you can monetize it.
Using social medias
You can earn money with your social media accounts. Again, look for affiliate programs that don't require a website if you are not building one.
Being an influencer is one of them. You can also use your personal profile on Facebook and start growing your friends' list to 5,000. Then you share valuable content on a regular basis and you do some promotions.
You can start a Facebook group related to the niche you have chosen. When you reach 100 members, Facebook starts to help you grow your group.
Since you have to stay in control and be the only one who promotes products/services, you have to make sure you spend time reading everything, answering comments and deleting everything that is against your group's rules.
There are many possibilities with social media. Know that Facebook is starting to make changes and doesn't really like affiliate links. Know that if you are part of an MLM, your account could be banned.
That's the downside of growing your business on social media. If your account gets banned or blocked or deleted, you lose everything you worked for.
The best way to make sure that you still have an audience, is to start an email marketing list. That way there are always people you can reach on your list.
Paid ads
This is not the most beginner friendly way to earn money online as an affiliate marketer. I mean, if you don't know anything about marketing, why would you start there. I believe paid ads are an evolution of the online business where you want to attract more people.
If you want to get started with paid ads, you will need proper training. There is a lot to know before starting to spend money to earn money.
Again, you want to have a budget and a product to promote. The product part isn't too difficult. Respecting a budget can be hard.
It is crucial to respect your budget. Some people have lost thousands of dollars in ads, trying to earn money from them. Again, it can take a month or two before you start earning money from your ads.
So if you are ready to learn everything about paid ads and you have a good budget, around $1,000, you can give it a try. Running ads is time-consuming and it can be stressful. Make sure it is the right way for you to earn money as an affiliate.
If you haven't already, you can read my article about Facebook Ads.
In conclusion
There is no best way to make money from affiliate marketing. Each has its pros and cons. You need to take time before you jump in a new project without knowing how much time and money it will cost.
You have to be serious about building an online business. It requires time, effort and consistency. Make sure you know that you can make it a priority and that you can reach your goals.
Choose wisely and give it some time. Success doesn't happen overnight in a 24-hour range of time. Depending on how much time you have to build your business every day, it can take anything around 3 to 18 months before you start earning money.
Are you in for a marathon?
Let me know in the comment section which way you prefer for affiliate marketing.
Best wishes,
Cynthia