When it comes to training courses and programs, there are multiple options available out there.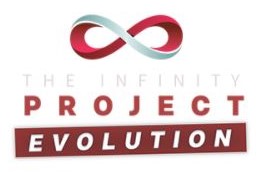 In the end, they all have ONE thing in common: Building an email list.
You can't get away from it. The money is in the list.
You can read more about email marketing in this article I wrote.
So here is another training created by ClickBank's top affiliates. FYI, there is no way to know who really are the top affiliates unless you are part of the best selling Clickbank's affiliate marketers.
The creators of this training are also behind Kibo Code, a step-by-step training and business in a box for dropshipping in the US. That program is now closed permanently and was listed at $4,997.
You can watch the interview about Kibo Code or scroll down to learn more about The Infinity Project Evolution.
***In the presentation/webinar, they use terminology and words that are not beginner friendly***
*May contain affiliate links. Clicking on the affiliate links will most likely result in the same price you would pay elsewhere or you may get a special offer using those links.
The Infinity Project Evolution Review
Name: The Infinity Project Evolution
Website: TheInfinityProject.net
Price: $1,497 or 3 payments of $597
Owners: Aidan Booth and Steve Clayton
Overall rank: 5 out of 10
What is The Infinity Project Evolution?
It's a step-by step and done-for-you system to help you build your online business and start earning money online fast.
It's basically the same business model you need to use to earn money online, but they have done some of the heavy lifting for you.
They have created "squeeze pages" or opt-in pages in nine industries (they call them niches but the real term is industry).
They also have created the emails that you send to your email list.
So if you have between 5 and 10 hours per week to work on a side hustle, this could be for you.
Likes and Dislikes
Likes:
PRO #1 It's a step-by-step program that will bring you to build your online business properly.
PRO #2 It's a no brainer when it comes to choosing a niche and products: Business in a box
PRO #3 You get all the basic components to create your online business
PRO #4 You don't have to use ClickBank to find offers to promote.
PRO #5 They offer a 30 day, no questions asked, guarantee.
Dislikes:
CON #1 You still have to pay for hosting (for your "squeeze page") and for a domain name.
CON #2 You have to get an autoresponder to send emails to your list. That's extra costs they don't talk about in their webinar. Learn more about autoresponder in my article here.
CON #3 They say you can do this from everywhere in the world. There are many countries that are blacklisted in every affiliate network. Just look at all the countries that are not available to promote Clickbank offers: AFGHANISTAN, ALGERIA, ANGOLA, AZERBAIJAN, BOSNIA AND HERZEGOVINA, BANGLADESH, BURKINA FASO, BURUNDI, BENIN, BELARUS, CHAD, CONGO, CENTRAL AFRICAN REP, CÔTE D'IVOIRE, CAMEROON, CUBA, DJIBOUTI, DOMINICAN REPUBLIC, ECUADOR, ERITREA, ETHIOPIA, GABON, GUINEA EQUATORIAL, GUINEA, GUINEA-BISSAU, GUYANA, IRAQ, IRAN, KENYA, KOREA, LIBERIA, LIBYAN ARAB JAMAHIRIYA, MOLDOVA,  MADAGASCAR, MYANMAR, MONGOLIA, MAURITANIA, MALAWI, MOZAMBIQUE, NIGER, NIGERIA, NEPAL, PAPUA NEW GUINEA, PALESTINIAN TERRITORY, SERBIA, RWANDA, SUDAN, SIERRA, LEONE, SENEGAL, SOMALIA, SRI LANKA, SYRIAN ARAB REPUBLIC, TOGO, TAJIKISTAN, TIMOR-LESTE, TURKMENISTAN, TANZANIA, UGANDA, ZAMBIA.
What it means is that you will have to look for other affiliate networks to work with or get a VPN to bypass the country restriction.
ShareaSale allows Nigeria, Algeria and other countries restricted from Clickbank. You have to build a full website though, not just a "squeeze page".
CON #4 They keep saying that you can make money as a matter of days. But that is most likely if you use paid traffic on your first day. They have a 60 day challenge to make you earn your first dollar online in 60 days….
CON #5 Everyone enrolled will use the same "squeeze pages" and emails. You will want to modify everything that is provided so you don't have to deal with duplicated content.
Just so you know, Google doesn't like duplicated content. So you can get penalized with the emails you send if they are the same as everyone else.
CON #6 You will need a budget for paid ads.
CON #7 I'm not a fan of their email list model. When using their model, you send daily emails to your lists with DIFFERENT offers EVERYDAY! Even though these offers would be complementary to the main offer people already bought from you, that's harassing people.
Who can benefit from The Infinity Project Evolution?
People who want to build an online business without having to spend endless time looking for a niche, looking for best selling products, building opt-in pages and writing emails.
It's good for everyone whether you're a total beginner or if you already have a business and want to create a new source of income.
The Infinity Project Evolution Tools and Training
You get started with the 60 day challenge. Then you step over to the 8 weeks program that contains over 100 videos, mind maps and more to help you progress.
You get the done-for-you "squeeze pages" and emails.
And you have the no brainer for niche and product selection since they already did that for you.
You get a 2 year access to their membership program that includes even more training.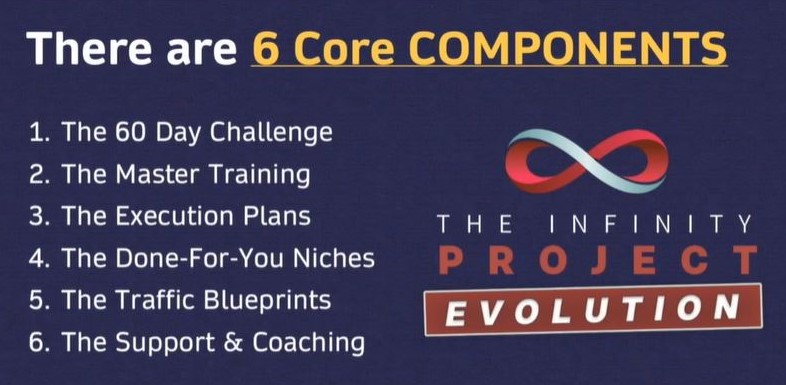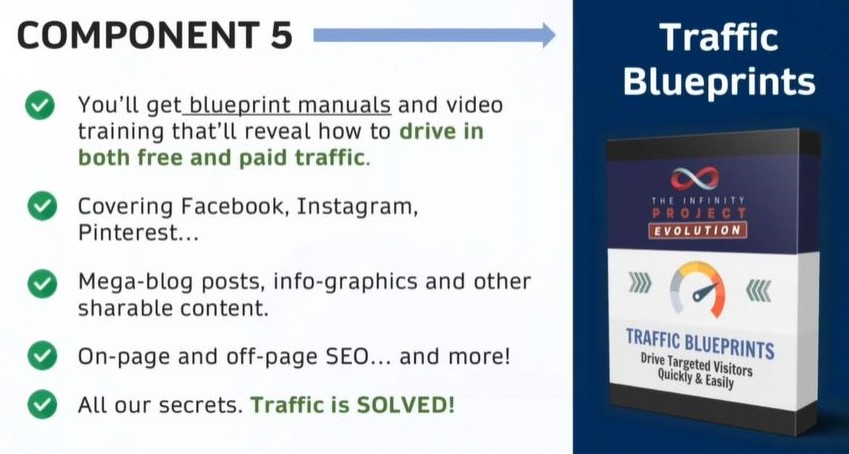 The Infinity Project Evolution Support
They have a private Facebook group. You also have a monthly coaching session and access to online support on the website.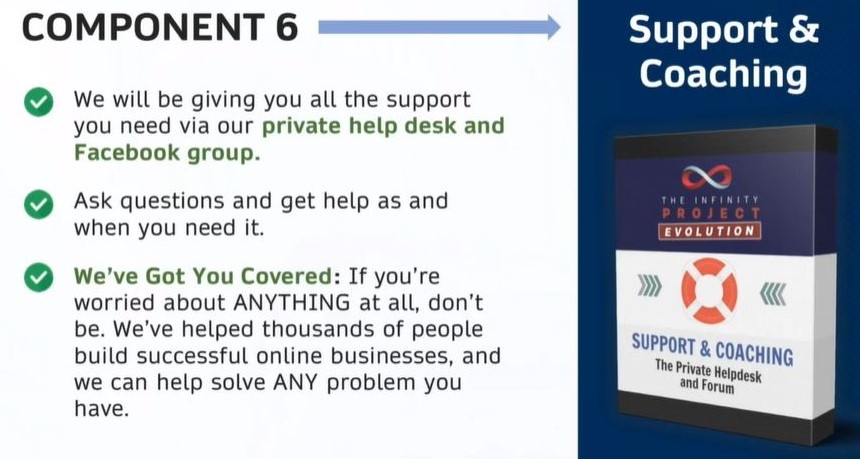 The Infinity Project Evolution Price $$
To get access to all the done-for-you business in a box system and step-by-program, you need to put in $1,497 or 3 payments of $597.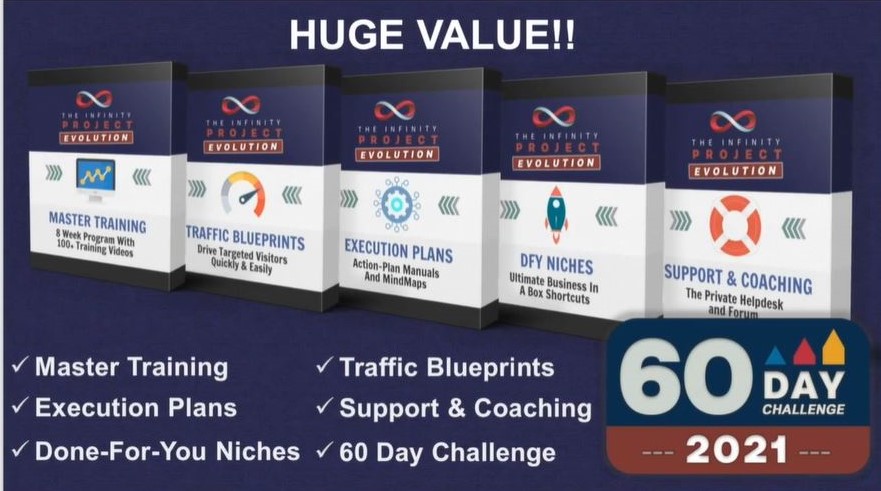 Luckily there is a 30-day, no question asked, money back guarantee. That gives you some time to try it out and see if it's a good fit for you or not.
Again, this is not the only investment you are going to make. You still need to pay for hosting, a domain name, an autoresponder to send emails and you will need money to invest in paid ads.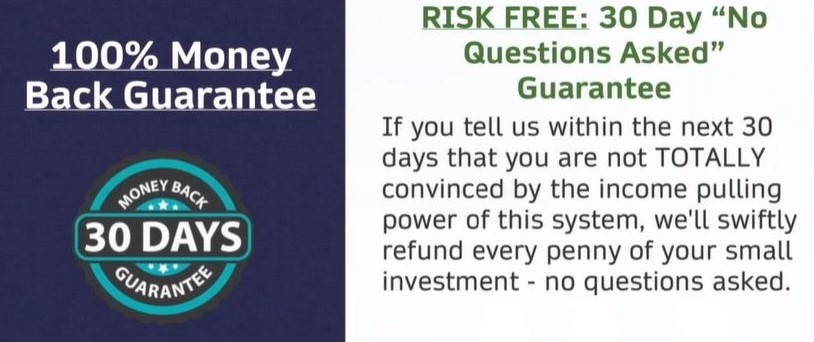 My Final Opinion of The Infinity Project Evolution
Even though it seems like a good program, I'm having issues with duplicated content and using the same thing that everybody else's using.
In other courses I have taken, they always tell us that you should NEVER copy, only model and create your OWN.
I'm also having an issue with the fact that Aidan said that in 2005 he was $90,000 in debt, but he met his wife in Lake Tahoe in 2003 and he was in Argentina in 2004-2006. I'm leaving this here…
They are promoting the same 9 industries as they were in Kibo Code: Baby products, healthcare products, DIY products, kids products, music products, sports products, pets products, gardening products and exercise products., since they are evergreen industries. Yet, I feel like there should be more available to choose from.
In their presentation, they are talking about how this business model made then ClickBank's #1 VENDOR. The vendor is the one that has a product for affiliates to promote. That business model didn't make them the number one affiliate marketers.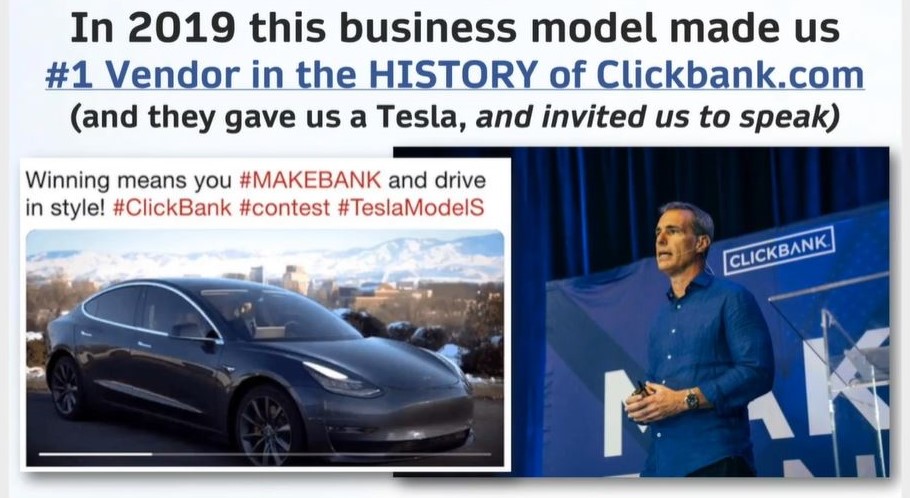 I think this could be a good program for a beginner that doesn't want to have to learn how to do everything and would like to make good use of the business in a box model.
I like that you can really monitor where you are in the making of your business and what comes next. It removes the overwhelming part of building an online business.
Since you have a 30 day guarantee, you could give it a shot.
The Infinity Project Evolution at a Glance
Website: theInfinityProject.net
Owners: Aidan Booth and Steve Clayton
Price: $1,497 or 3 payments of $597
I suggest you take a look at my other reviews here.