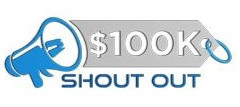 Many companies are trying to find the best way to make money online. There are several choices available. Today you will discover something different from what you have seen before. The program is not available to the public. You need to book a call to see a demo of the product.
The good news is that you won't have to book a call with AmpiFire to get access to their great product. You can register using the links in this review. They will bring you to the webinar where you will learn more about this opportunity,
*May contain affiliate links. Clicking on the affiliate links will most likely result in the same price you would pay elsewhere or you may get a special offer using those links.
Name: $100K Shoutout
Website: Ampifire.com
Price: $2,497 or 3 payments of $997
Owner: Chris Munch
Overall rank: 8 out of 10
What is 100k Shoutout?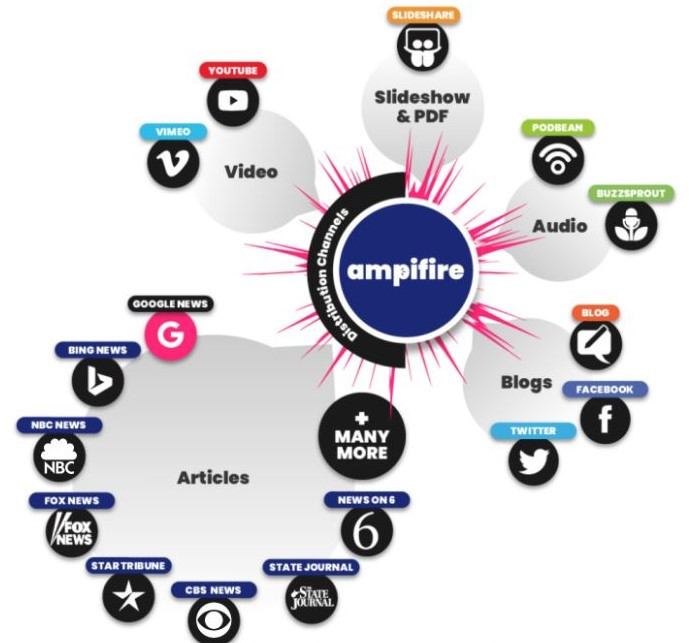 Is it a done-for-you amplification engine (a done-for-you system) to help you promote offers on multiple platforms and websites, without having to spend countless hours to create your campaigns.
During the webinar, you will learn about the 3 secrets of the 100K Shoutout system: The 3-step system with done-for-you campaigns, the secret formula to find high ROI (return on investment) and the power of omnipresence.
To simplify, the software uses AI and software automation to publish your campaign on multiple platforms so it drives more traffic to you, which will eventually results in sales and for you to earn commissions.
All you have to do to make this happen is to find your niche, create the content you want published, build your mini website (a landing page, opt-in page, one-page website: some page to get people's email addresses) and use the software to promote your offer everywhere on the internet.
Likes and Dislikes
The likes
PRO #1 The step-by-step training.
PRO #2 You don't need anything to get started. Everything is done-for-you.
PRO #3 There is over 20 different niches you can choose to promote. They were choosen for the potential earnings you can earn from them.
PRO #4 It's beginner friendly. The learning curve is more about how to use the software once you have chosen your niche.
PRO #5 It's great value for your money.
PRO #6 There is a great guaranty: 60-day no questions asked.
The Dislikes
CON #1 It's expensive to get started online, but not as expensive as a physical business.
CON #2 There is some kind of upsell. You get 35 done-for-you campaigns. When you have used them all, you have to pay to get more. Even though by the time you need more, you will have make enough money to cover that upsell.
CON #3 I haven't heard of anyone having success with their training and using their platform. Maybe it's too soon to know.
CON #4 You can't choose any niche. They are pre-dertermined. You may not find something you are interested in to promote.
Who can benefit from 100K Shoutout?
Everyone who has the money to invest in their system should give it a try. There is no need for experience, no need to create content and you can use their software anywhere in the world.
If you are interested in building an online business and you know how many hours of hard work it's going to take and you would like to take a shortcut, this is what you need.
Anyone who wants to invest time building money online and is looking for a no-brainer way to do it, give 100K Shoutout a try.
100K Shoutout Tools & Training
You get access to a 6-week, step-by-step training: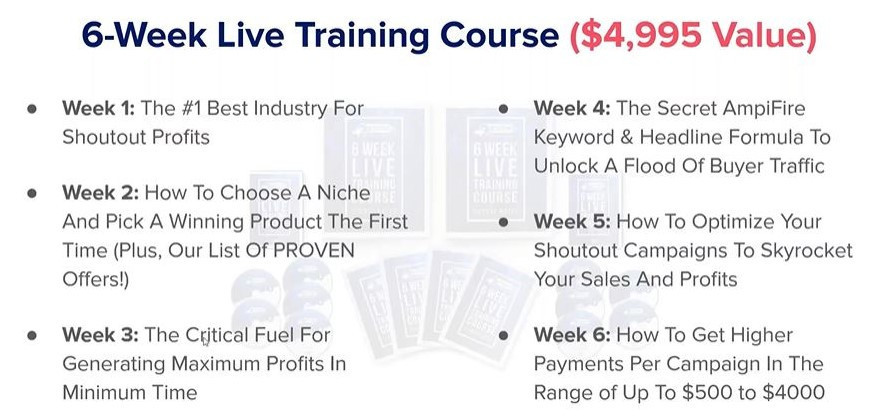 You also get the AmpiFire software that allows you to create and publish content on multiple platforms, 35 Done-for-you campaigns, the proven mini-site template, the mastermind, the 90-day challenge and your dedicated concierge.
There are two bonuses: The 100K Shoutout Case studies and a one-to-one coaching call.
100K Shoutout Support
You have access to your personal concierge available 24hours a day, 7days a week. What that means here is that you have email support and coaching all day long and year long.
There are live Q&A calls every month and you also have access to emotional support if you ever need it.
100K Shoutout Price $$$
To get access to this incredible tool to make money online, you will have to pay $2,497 or 3 payments of $997. The total value of what you are getting is $31,849.
There is a good money back guaranty. It's a 60-day guaranty, no questions asked. If you are not satisfied, they will give you your money back and the campaigns will continue to run and you might still earn commission after you received your refund.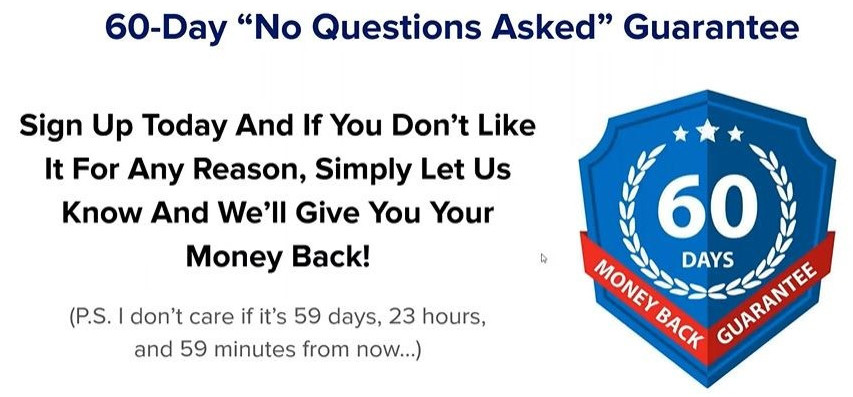 My Final Opinion on 100K Shoutout
It's a very interesting way to get started with affiliate marketing when you want a done-for-you system, where you don't need to spend too much time creating content that will bring traffic to your mini website. It creates an omnipresence so people know that you exist and that you are promoting something.
I like that it's risk free to give it a try. It's a great investment to help you achieve your financial goals faster. I think you can use that to get started online and then you can start building your online business the regular way, spending time creating valuable content on a website, etc.
Let me know if you disagree in the comments.
100K Shoutout at a Glance…
Name: 100k Shoutout
Website: Ampifire.com
Price: an investment of $2,497 or 3 payments of $997
Owner: Chris Munch
Verdict: Give it a try!