Are you the type of person who would prefer not having to build a website? Or an email list? I have something for you.
There are different ways to promote other's products. Running ads on Facebook is one of them. Sounds simple? Not so much. There are many things you have to be careful about. Many things you have to learn. That is why Robby has made a program to give you everything you need to run successful ads.
*May contain affiliate links. Clicking on the affiliate links will most likely result in the same price you would pay elsewhere or you may get a special offer using those links.
Commission Hero
You are invited to his free training webinar. You will get to learn the 3 step method that made him earn a lot more than he was making with his gym. He wants to share his success secrets so you can be a successful affiliate. The webinar contains great information and you can use what he talked about in the training and get your Facebook ads up and running.
Now, Robby can offer you more. Like I said, he has built program where you will learn in depth how to have success with ads.
Name: Commission Hero
Website: www.robbyblanchard.com
Price: Free webinar training. $997 for the package deal or two payments of $597
Owner: Robby Blanchard
Overall rank: 4 out of 10
Product overview
Commission Hero is an all in one product. You will have access to the training you need to be successfully running ads on Facebook. You will have access to make for you campaings, template, images, everything you need to make money from your ads.
After the free training, you can choose to do it yourself and try to make your own ads with the products you find on ClickBank or learn from someone else's mistake and start earning commission quickly.
Likes and dislikes
The likes:
PRO #1 You don't need any experience to be able to earn money from ads.
PRO #2 You get access to the private Facebook groups for support and the community of people who are on the same journey.
PRO #3 You start from scratch and need minimum time investment.
PRO #4 You get a lot of value for your money. The total is estimated at $23,670.
PRO #5 You will get access to the newest products in the health industry before anyone else can start promoting them.
The dislikes:
CON #1 During the free training, Robby talks too much about how his students are making great amount of money.
CON #2 You will need to invest in Opt-in page, or landing page, hosting (like ClickFunnel)
CON #3 You may want to consider starting an email list to help you sell to people who already bought from you. You never know if your Facebook account is going to get shut down.
CON #4 Most products he is affiliated with are in the health niche. If you have zero interest for that niche, you won't be able take advantge of everything Commission Hero has to offer.
CON #5 You may deal with duplicate content since many students will use the done for you ads.
CON #6 Be mentally prepared to get your Facebook account blocked. Facebook is changing the rules for advertising on its platform. The course is not following the new guidelines.
CON #7 The price can be high for some, since Facebook have a free program that will teach you how to do ads the right way.
Who can benefit from Commission Hero?
Anyone interested in running Facebook ads or anyone with a certain amount of money to be able to pay for the ads. Keep in mind that you will have to spend around $10 per day to get started.
If you already are an affiliate marketer but you feel stuck, you want to make some extra income, you have an online business and you want to take it to the next level or you have around 1 hours per day for a side hustle maybe you could give Robby's training a chance.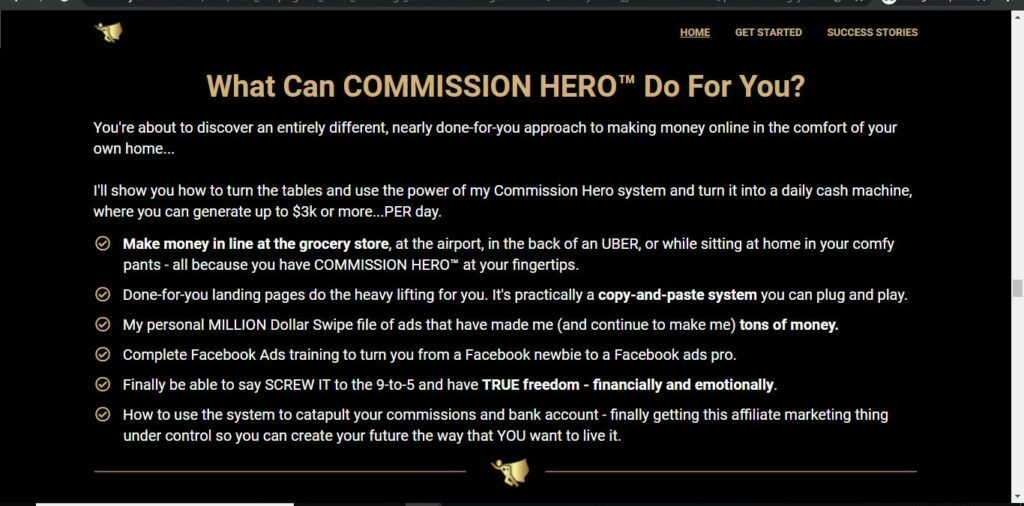 Commission Hero training
You have full access to the training with the 3 step method. You have the pre-built landing page, the million dollar image swipe file, the million dollar ninja tactics and campaign set up videos. See for yourself: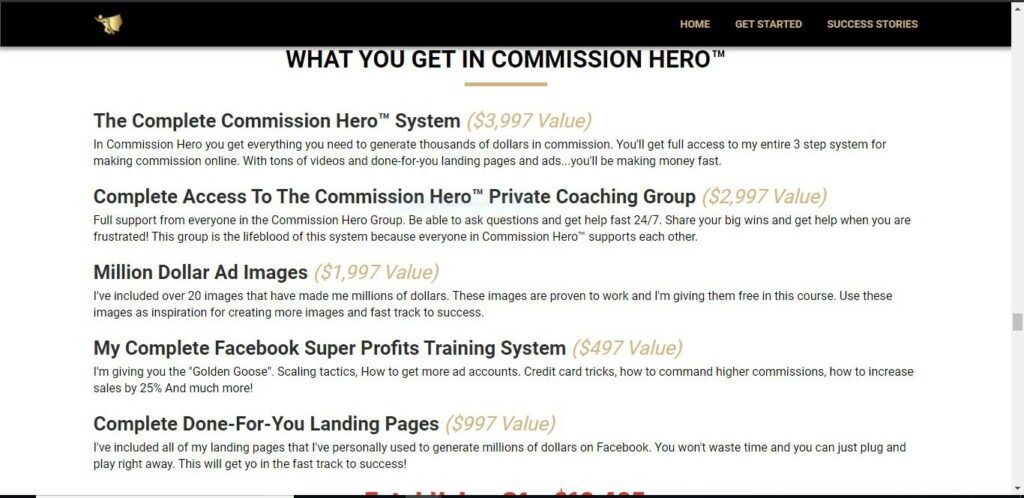 Commission Hero support
Not so clear as where you get the support you need other than the Facebook group and coaching. I tried to reach support by email. Couple weeks later I am still waiting for my answer.
Commission Hero price
Free training webinar. $997, two payments of $597 or PayPal credit (for US residents)for a total value over $20,000
Final opinion
I think it's a bit expensive for all that you get. Robby has found a way to become the most successful affiliate marketer promoting products that are found on ClickBank and wants us to have our success stories.
Keep in mind that you may end up promoting his course and you don't have the budget he has for ads.
If you don't want to have to build a website, sell your own product or deal with customers, I think you will enjoy Robby's training.
Remember, to determine if you are in front of a scam, you need a few things. The owner claims it is not a get-rich-quick scheme, success stories, a social media presence AND a guaranty. Yes, Commission Hero comes with a 12-month guaranty which makes it worth giving a try.
I invite you to read my article about the fake gurus industry.
Commission Hero at a glance
Name: Commission Hero
Website: www.robbyblanchard.com
Owner: Robby Blanchard
Price: Free training, $997 to access all the extras.
Verdict: Worth a try