Not everything the people who are in the affiliate marketing industry try to sell you is a scam. Some things are just pricey.
*May contain affiliate links. Clicking on the affiliate links will most likely result in the same price you would pay elsewhere or you may get a special offer using those links.
List Launch Pro review
Name: List Launch Pro
Website: www.listlaunchpro.com
Price: Value on the website: $8,997. Value on the webinar: over $20,00. You pay $1,497. Payment plan available and PayPal credit (US)
Owners: Winter Vee and Tim Tarango
Rank: 7 out of 10
Money is in the list? If you want to improve your affiliate marketing income, you might want to consider starting an email list. That way, you grow a list of people who are interested in what you have to say and to sell.
Today I will introduce you to a method that will boost your subscribers. It's called the L3 Cloning Process.
If you want to get started in email marketing, the first roadblock you will encounter is to get traffic to your landing page. The second one is to get subscribers. The third one is to write the emails you are going to send to your list.
Fun part is that you get everything you need to get started in one place.
Here is what the product has to offer
You get an all made up for you campaigns including the Opt-in page, the thank you page, a product that sells and 45 days of emails. All you need to have to get started is an autoresponder. AWeber is the best choice to get started. It's completely free until you reached 500 subscribers, no credit cards needed to get started. You also need a ClickBank account, which is also free to get.
Of course, the all done for you product as a price. Remember that everything is automated and you won't have to spend countless hours writing emails and finding products to sell. The platform comes with a done-for-you 45-day email follow up campaign
You will have to invest an initial $1,497 to access the platform. You will then gain access to the training, to all ready to go campaigns.
Even though you don't have any subscribers to your list, there is a place in the platform where there are list owners that will promote your opt-in page to their subscribers. You then get your first list growing.
Likes and Dislikes:
The likes:
PRO #1 You get a lifetime access to the List Launch Pro website.
PRO #2 Beginner friendly
PRO #3 They offer step-by-step video training to get you started
PRO #4 There is a lot of training included to get you started.
PRO #5 They offer exclusive bonuses when you register after watching the webinar.
The dislikes:
CON #1 They don't reveal the niches they use for their products. You know when you are a member.  I did my reasearch and I found out that they are currently providing products in the SELF-HELP niche, which is a profitable niche.
CON #2 It's a bit pricey even for a done-for-you product.
CON #3 I don't feel like they offered great value with their webinar. Watch it here and see for yourself.
CON #4 They talk too much about big money others have made using their product.
Who can benefit from List Launch Pro?
Everyone who wants to get started with an online business in the Self-Help niche, people who want to grow their existing business and get more leads, anyone who want something easy to get started with, affiliate marketers, coaches, product creators, consultants and list owners who want to grow their community.
List Launch Pro tools and training
You will get access to different training to help you maximize your affiliate income. There is a step-by-step program to help you get started.
The tools included are the done-for-you campaigns. If you get lucky, you might get the complete automation bonus that allows you to transfer all the emails that are ready to use to your autoresponder. So instead of taking many hours to do, the tool will do it for you so you can spend your time doing something else.
Here is what you are getting for your money: The Fast-Start video training, done-for-you LLP campaigns, the Instant Email Blast database, The Millionaire Mindset video library, Done-for-you 45-day email follow up campaign, monthly group coaching calls and access to the Facebook group.
Bonuses from the webinar: the "Next level" training course, automatic autoresponder integration, the "Million dollar 2-page letter campaign", free traffic secrets and the "Rainmaker email campaigns".
List Launch Pro support
The support is mostly provided by the Facebook group. Everyone registered to List Launch Pro is taking part in the discussion. Chances are that if you have a question, it will be answer easily in the Facebook group. There are live training on a monthly basis. You have also access to support via email. they get back to you within 24 hours.
List Launch Pro Price
If you go directly on their website, the List Launch Pro is valued at $8997. You can watch their webinar(here) and get the List Launch Pro at $1497 plus all the bonuses that are not included if you register directly on their website. A possibility of 3 payments or, if you are a US citizen, PayPal credit, for unlimited, life-time access. It can either be a good deal or too much money.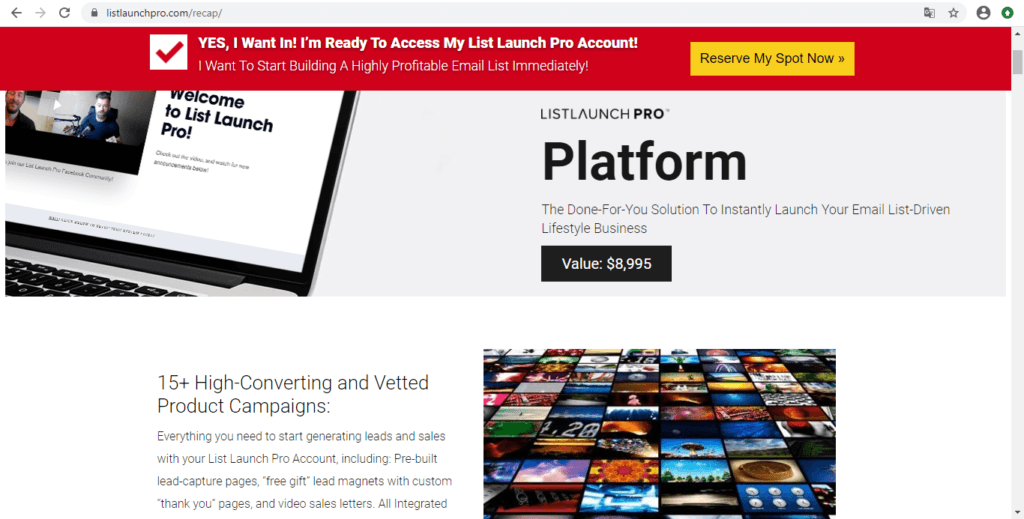 They offer you a 60 days sales guaranteed or they buy your business back at $1,500. It makes it less scary to try to build your email business there. That means if you follow the training and instructions, you use support and you didn't make any sales within the first 60 days, they buy your business back.
Final opinion on List Launch Pro

I think it can be a great deal for someone who is just getting started and wants to get everything set up fast. It's good for people looking for a no-brainer way to grow their subscribers list. It can be encouraging to see your list grow rapidly. Since there is a 60 days guaranty, you can give it a try if you are interested in the Self-Help niche.
List Launch Pro at a Glance

Name: List Launch Pro
Website : www.listlaunchpro.com
Owners: Winter Vee and Tim Tarango
Price: $8997 value, $1497 plus bonuses from the webinar