Nowadays, there are many people telling you how great high ticket products are to jump start your online business.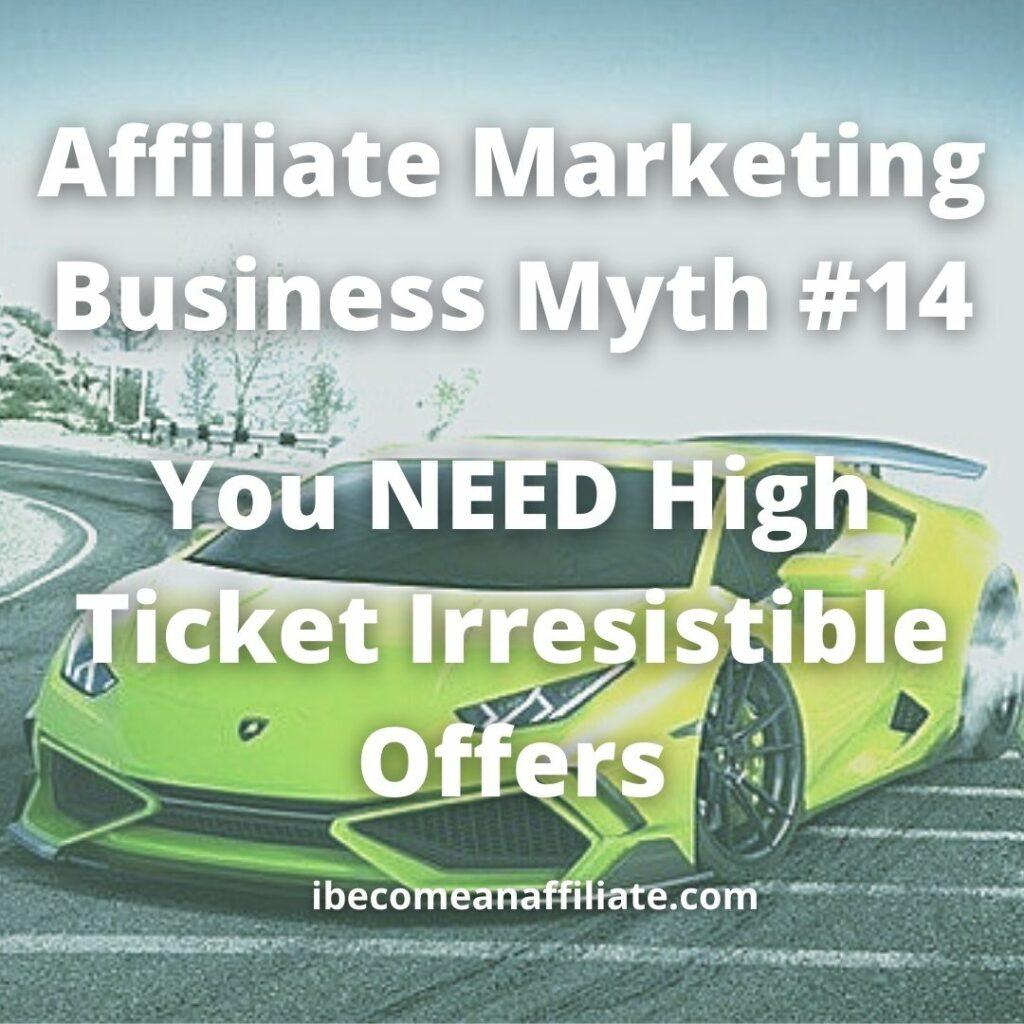 As it can help you earn much more money in just one sale, as you get started with affiliate marketing, they are hard to find.
*May contain affiliate links. Clicking on the affiliate links will most likely result in the same price you would pay elsewhere or you may get a special offer using those links.
What is a High Ticket Offer?
A high ticket offer is a product or service sold at a higher price range, usually above $1,000. Some people or some industries consider anything above $500 to be a high ticket offer.
If you are in the digital products world, the majority of the high ticket offers are courses. There are some higher ticket products that include coaching.
Why are they interesting? Because the offer commissions starting at 30% and going up to 100% (yes, you could earn 100% of the sale for certain products).
If you are in the physical products world, depending on your niche and on your affiliate program, it could be anything above $500. Keep in mind that if you are an Amazon affiliate, you still get under 5% commission.
The best way to monetize your business if you are promoting physical products is to find a digital product that will give you a higher percentage of commission.
High Ticket Offers Epidemy
What I've noticed in the past couple months is the increased number of training that supposedly helps you sell high ticket products.
There are 2 problems with those courses/training:
1- The high ticket product you get to promote is the training you just paid for (which can be a good thing if you are building a website and you create a legitimate review from the inside). So you don't have the choice for the product you promote.
2- There is a new trend with those courses that promote organic traffic using Facebook. The problem is that you now have to engage directly with people by sending them private messages.
Do you see where this seems to go? Doesn't what I just described look more like Network Marketing (or MLM, multi level marketing)? Since when an affiliate marketer has to "recruit" people to get its commission?
I wrote an article explaining the differences between MLM and Affiliate Marketing. You can read it here.
The worst part is that the people selling those courses feel like they have revolutionized how to make money online using that method. Really? Nobody was doing that before? Really?
I don't think it's real affiliate marketing if you have to recruit people and engage directly with them by messaging them and chatting with them.
With affiliate marketing, you are supposed to help people find the best solution to their problem, like any good entrepreneur would. When you bought a $2,000 program that teaches you how to sell that program to other people, are you really helping others to make the best decision?
I have been approached many times by people who wanted me to try their mentor's program. One thing they do is that they make you feel bad about the fact that you have been building your affiliate marketing business for several months without having made any sales (which is normal when you take the organic, helpful way).
Even though some of them seemed very nice and helpful, since I know they will be receiving a high commission when I take action, it's hard to detect if they are being genuine or not.
They are easy to find. (They will actually find you). They modified their Facebook profile or they have created a new one to fit what they have been taught in the training they had. Now their profile is full of affiliate paid outs, testimonials, quotes and promotions.
Some of them still put a few personal pictures and share personal tidbits of what happens in their lives, but they are the minority.
As far as I'm concerned, Facebook is still a social media platform and it should be treated as such. You need to create a business page to run ads, you might as well use it to share tidbits, promotions and quotes there.
If you think about it, the way they tell you about being able to promote high ticket offers ends up with being able to promote one product. Was it the goal? I doubt it.
If you are looking to promote high ticket offers, you will have to work and build an audience, build your credibility in your niche and build a reputation. Why? Because affiliate networks need to see what you can do before they let you promote even low ticket offers.
There are a few places, like Clickbank that will have high ticket products in their marketplace, but more often than not, you will need the vendor's approval before you can start promoting that product.
You may get lucky if you are good at running Facebook ads, but you need very good training to be able to earn money from your ads. Know that you will burn money when you get started. It's normal, you are learning.
Do I Need a Website?
Most affiliate networks ask for your website's url. This is one of the reasons why you should have one. It really helps build credibility. It will also demonstrate if you are in this business only for the money or if you really want to build a sustainable, long-term business.
You can read more on choosing a product in this article I wrote.
Building a website will increase the number of offers you can promote. You don't need 90 products on your website to make money. You need a few good programs or products that are complementary to each other so it really helps your audience.
Once your website starts getting good, regular traffic, for some higher ticket products it would be a minimum of 10,000 page views per month, then new opportunities will be available to you.
Even people that have been in the online marketing business industry say that if you get back all the money you invested(mostly in ads, not in the training you took to be able to run ads) in the first 3 months of starting, you are good…and maybe lucky.
So is it worth spending thousands of dollars on a training that promises you to be able to promote high ticket products if you end up promoting that same training only? Especially if they are turning it into network marketing?
If you wanted to do network marketing in the first place, wouldn't have looked into that to get started?
Keep in mind that it is easy to find or fake commission reports to make you believe it's easy to make money using their program. I truly question the quality of the training. I know I won't spend money on them right now to find out.
If you take a look at the reviews online, whenever they are from affiliates, they are most likely to be totally biased to make you believe that this is the best program ever. Is it? You can barely find any CONS in their reviews. There are no perfect programs out there, there is always something that could be better.
Just read a few of the Wealthy Affiliate reviews you find on Google. They are either super good or super bad. I feel mine is more realistic (you can read it here). Why? Because I want to provide all the information so you get to decide if that product is right for you or not.
How to Become a High Ticket Affiliate?
So what is the best way to be eligible to promote high ticket offers? Build your email list. As "simple" as that. That's the best way to be able to reach out to a lot of people at a reasonable cost.
You may be interested in reading the article I wrote on Email Marketing here.
When you apply to promote a high ticket offer, you may be asked about your website's url, how many followers you have on social media and how many people you have on your email list.
This is how reputable companies know that you are not a spammer/scammer. This is why the good old ways to make it in the affiliate marketing world are still the best ways to go to open new doors of opportunities.
So you may be "stuck" with low and mid ticket offers when you get started as an affiliate marketer. Is it bad? No. Can you expect to make sales fast? No. You won't get as much (as high ticket commission) when you do earn a commission and that money should be invested back in your business to help you scale it.
Plus there are niches where there are no high ticket products offered. If there are no high ticket offers at all, that's probably because people are not willing to spend a lot of money in that niche.
This is a situation where having a website comes in handy since you can earn some money from the ads on your website (AdSense, Ezoic, Mediavine, etc)
Starting with promoting lower ticket products (low ticket and mid ticket) will help you learn how to promote products for your audience. You will develop your skills and you will get better.
When the day comes when you can promote a high ticket offer, it will convert well because you will be at ease using all the tools that are available for you. You will have built trust and credibility with your audience and you will know how to promote it and get a good conversion rate.
You need to plan ahead for your affiliate marketing business. When you do your research for your niche, you really need to pay attention to the kind of products people are buying.
Make sure there are plenty of high ticket offers to promote. That way, you know there's a demand for that. You know people are buying them.
Knowing that you will eventually offer high ticket products to your audience, will help you build your relationship with it in a way that it will be happy to buy high ticket offers from you.
You are building a business. It takes time, effort and consistency. Don't rush it. You will need training to jumpstart your success. Don't do it all on your own.
Plus, there is some training, especially for Facebook ads, where you can get exclusive access to certain products. Are they all high ticket products? No.
Are There High Ticket Offers for Beginners?
Yes. It all depends on your niche but you are most likely to find something at a higher price point that you will be able to promote even as a total beginner.
You may have to spend a little more time researching those products. Keep in mind that most high ticket offers are digital products and most often than not, they are courses and coaching offers.
It will make you search easier since you know what you have to look for.
In Conclusion
When you get started, try to have some diversity of products and prices so it will be easier to promote higher ticket products to your audience. If you only have products around $50 and all the sudden you arrive with a $1,000 offer, chances are that your audience is not going to buy it.
Don't pick a niche for the high ticket products you can promote. Pick something you love and make sure a wide variety of products and services are available. It will be easier for you to choose good offers.
Choosing the right offers to promote to your audience will keep your relationship strong. You are there to help, not just there to make money.
Cynthia