We often hear about SEO. There are many training available on the internet only about search engine optimization. There are companies specialized in helping their clients rank better in Google using SEO. Why is that? What makes it so special? Do you need to buy it? Is it something you have to create?
When you are getting started in the online affiliate marketing business world, you might not have a clue about what is SEO and why it matters so much. It's normal. There is so much to learn. I'm going to help you put things in perspective.
The definition of search engine optimization is basically what you have to do to improve the quality and the quantity of natural or organic traffic your website gets from search engines, like Google and Bing. Then, you get ranked better in the search engines.
Organic traffic is free traffic. You didn't pay to get ranked.
Quality traffic is when people STAY on your website for as long as possible. It's also related to the bounce percentage, meaning how many people view a single page of your website, instead of going to other pages. It's a plus when you have visitors coming back to your website.
You will get most of your traffic from searches people performed on Google. If people can't see your website, it will be harder for you to develop an authority. No authority, no ranking on Google's first page, no visitors. This is why we hear a lot about SEO.
If you want a more detailed definition of SEO, I invite you to read this here.
Now, you don't need to pay to use search engine optimization. It's something you build while building your website.
*May contain affiliate links. Clicking on the affiliate links will most likely result in the same price you would pay elsewhere or you may get a special offer using those links.
Why is SEO so important?
Since you are building a website and you want to become an affiliate, you want that website to be found, right? SEO will help you achieve that goal. As you get started, don't overcomplicate things. Focus on a few easy things to do to be search engine friendly.
Be aware that Google isn't a fan of affiliate websites (ouch!). This is why it's important to build value, to create relevant content to your niche. The worst thing you can do it put tons of affiliate links everywhere on your website not creating any original content and using ad copy provided by the product's promoter.
To build a sustainable website, to need to create evergreen content. This means, you need to write articles that will be valuable in the long run, now only for the next month. I wrote an article to help you create content.
What are the easiest things you can do to be SEO friendly?
There are over 200 check points to take into consideration. Like I said, as you are getting started, don't overthink this. Focus on some key points that will help you get visitors.
You want your website to be mobile friendly. This is a big one for Google now. If you are building your site from WordPress, most of their themes are compatible for cell phone users. More and more people are using their phone to search Google and spend time on social medias. You want to make sure everyone can have a great experience from your website, whether there are using their computer, their tablets or their phone.
Your content has to be easily accessible. Your website won't rank good if people have to click to show the whole article. The more your visitors have to click to read what you have to say, the bigger are the chances that they will leave without reading the whole article.
Keep your content clean. Avoid swear words and adult content. Google will not like your site. Stay away from putting too many links in your article. It's distractive. Using too many links will not help you get ranked. Do you really need ten different links in your 1000 words post?
It has to be easy to read. I know, you want to promote your products. Do you remember? You have to create valuable content. Why do you want to put AdSense everywhere in your posts? Why do you put your affiliate links everywhere that visitors have to scroll forever to read your article? How can people be interested in reading your posts if they feel attacked with ads of affiliate links?
Be user friendly. Yes, your website reflects your personality. Yes, you want to add your personal touch. Yes, it's OK to do so. Be careful with how you do things. When you are creating content, are you going to post a big block of 1500 words? No. Use headlines, sub-titles, paragraphs, pictures relevant to your post to make the experience enjoyable. Separate your post. One idea, one paragraph.
Use internal links. When you have created about ten posts, you can send your visitors to another post you have created that is relevant to what you are talking about in the post they are currently reading. You can then link that post into your new post and voilà! You are creating value for SEO. Again, don't over use it.
The smart use of keywords. You want to use them wisely. Try to identify what people are looking for when typing keywords. The "How to", the "Why this thing is…" and the "What is the…"questions are a good way to get started if you are unsure of the intent.
You may want to put you keywords in your headline and in some sub-title. You don't have to put them a thousand times all over your text. If your content doesn't flow, if it doesn't read right and provide value, you will loose point for SEO. Plus, writing your content, you will automatically use several keywords that will be used by search engine to find your content and show it to in the search results.
Do your keywords research. You want to find keywords that get traffic, but you don't want too much competition. That's why you have to try to go with the intention of the person looking for the keywords, so your post can be the most relevant for that person.
First, you can go on Google and start typing your keywords. Look at the suggestions  I made an example using affiliate marketing.
Once you have keywords, or phrases you like, you look them up in a keyword search tool, like Jaxxy. You want to do that to be able to find keywords with lower traffic. Look at the QSR: quoted search results, it's the number of websites ranked using that keyword.
Since you are building your website, you want to go with lower competition, aim for QSR under 200, but above 10, to make sure that people are looking for these keywords. I use Jaxxy for my research.
You can try it too: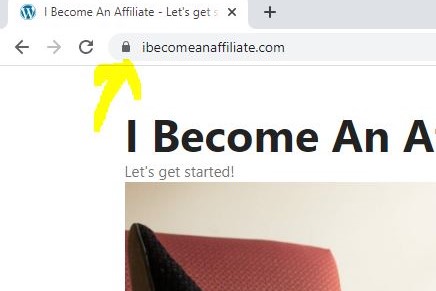 Make sure your website is secure. You want to have a HTTPS in your URL or you want to get an SSL certificate, ensuring that all the information exchanged on your website are secure. Google blocks every website that have security issues, providing a warning message saying that you are at risk of your information being stolen if you go on that website.
You want to have a security certification that is up to date. You want it to be valid, it does expire. How do you verify when it expires? Go on your website and click on the lock that is at the left of your URL. Insert picture. Once you clicked it, you see that your website is secure. Then you go under that to the certificate word and click it. You will then see this: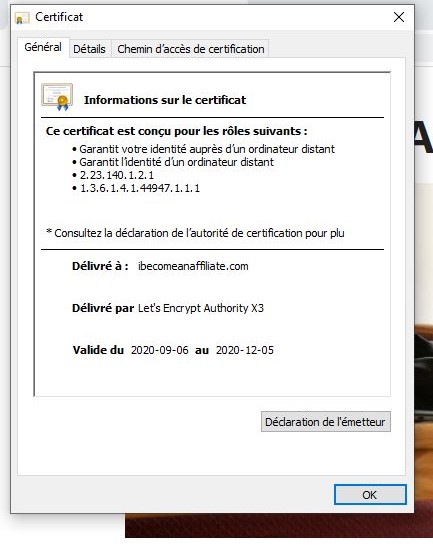 If you are using a web hosting service, you want to make sure it gets renewed in time. Certificate are valid for a certain period of time, going from a couple months to a year. For example, with Wealthy Affiliate, the certificate are renewed automatically once it expires after a couple months. All you have to do is to put the date in your Google calendar and check your certificate is valid and renewed on the last day or the day after it's due.
Keep your content fresh. Google will help new content by showing them in search result even if your website is not yet ranked. What it means for you is that you want to keep your content up to date. First, you want to create new content regularly. Second, you want to update you older posts. Not just with adding a few words or pictures. You want to add a paragraph, remove one, create internal links, etc.
Lastly, get social. You want to answer to the comments on your website. That will show Google that you care about your website and it will build trust with your audience. Share your posts on social medias. The most effective media to get ranked is YouTube, since Google owns YouTube. Using other social medias to share your content will make it available to other and will help you get traffic.
Create a business or blog page on Facebook where you share your posts and other relevant information to your audience. You can also create a LinkedIn, an Instagram, a Twitter and a PinTerest business account where you can share your posts. Click here to learn more about how to use them.
Here, you are set to start with search engine optimization. There are many others points that Google algorithm take into consideration, but I think these are the best and easiest to get started.
If you want to get all the SEO ranking factors, you can get them here.
Go optimize your website.
Cynthia