This is simple. Your authority will be established with the content you create and how long you've been around. You also want to add in this equation the experience you have with the topic.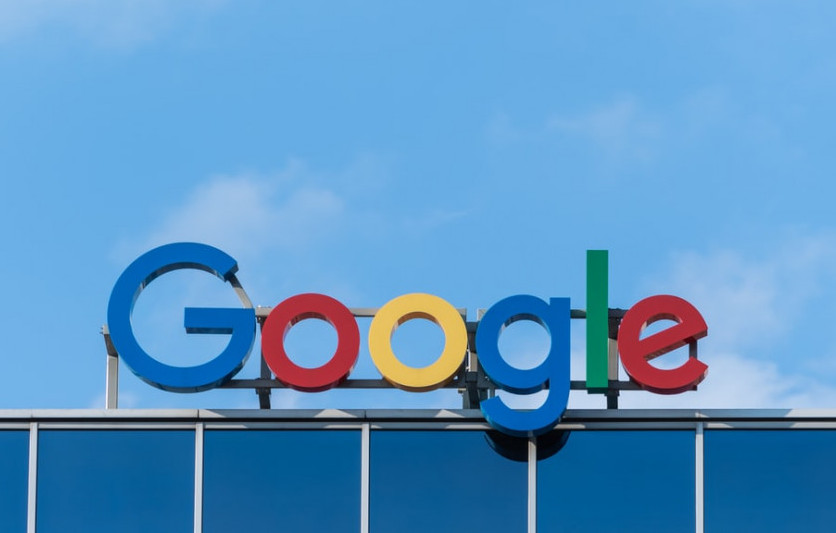 *May contain affiliate links. Clicking on the affiliate links will most likely result in the same price you would pay elsewhere or you may get a special offer using those links.
What is website authority VS domain authority?
Website authority is based on how often a website appears in the search results for topics in its niche. Add to that the size of the website, the writer's credibility, the number of pages and articles and the age of the website. Has it been there for a while or is it brand new?
Domain authority was created by MOZ as a tool to determine which website would be likely to end up on Google first page in the search results.
Domain authority ranges from 1, being the lowest score, to 100, being the highest score.
Why is establishing authority important?
As Google says it doesn't use domain authority to rank websites in its search results, it will help you understand how good or bad the websites ranking on the first page are. It will help you determine how much work you will have to do to get your website on the first page.
Establishing your own authority in your niche is important to gain credibility from people who visit your website.
You will also know if you are on the right track with the content you create on your website and it will help you determine if you can rank on Google's first page in the search results.
The best part comes when you can compare your website with other websites that are of similar size in your niche and see how they are doing compared to your website.
How do you establish your authority with your website?
Create a website with a "About Me" or a "About YourWebsite'sName" page. In that page, you want to tell the visitors why you are qualified to talk about the niche you choose for your website.
You can take a look at my "About Me" page here.
So if you have a knitting website, ideally, you are knitting and you have projects you can show with pictures or videos. You know about the different materials you can use and the best one to use for each project because your best friend is a yarn retailer and she knows everything.
Any experience you have that can give you some kind of credibility in your niche, you write it in your "About" page.
The next step is to create good, valuable content that answers the search intent in Google. Once you have written your articles, you need to let Google do its magic. Don't expect much results before you are in month 8.
You can build an ecosystem around your website that will help with your domain authority. The easiest way is to build some presence on social media. You don't have to be all over the place and be present on every social media platform that exists.
You may be interested in reading my articles on Creating Social Media Content.
Just make sure that you have something outside your blog so that people can get social with you.
Don't bother searching how your domain authority ranks until you are getting good and regular traffic on your website. Again, you may want to wait for a minimum of 8 months before taking a look at your domain authority score.
Then, there are backlinks. Your domain authority mostly relies on the number of backlinks you have on your website. If that score is important to you, start building those links.
Do you need to build backlinks?
No, you don't need to spend time guest blogging, writing comments on authority sites in your niche nor you have to send emails to ask other sites to link back to you.
These methods are very common and they are not a real proof of your authority. Some bloggers that have spent countless hours building backlinks to their websites got hit harder with Google updates then others who spent that time creating good content for their website.
Backlinks will appear naturally as your website grows and gets older. Building backlinks is very time consuming and may not pay off as much as creating new content for your website.
I know, big authorities in the blogging industry, like Neil Patel, Authority Hacker, ClickBank and many others are claiming that backlinks are a main component of your website authority because this is how they did it.
But there are "rebels" who won't spend their time building backlinks and their websites are ranking great because they create good, quality content for their visitors.
You can read on How to Create Content in this article I wrote.
They also have that argument that if there are too many backlinks coming in at the same time, it will look suspicious for Google and your website could get penalized. Then all your efforts building backlinks would have been for nothing.
Building backlinks will improve your domain authority. So if you really want to boost your domain authority, you need to build backlinks. Since Google isn't using that to rank pages in it's search results…
How to verify your website authority?
There are many free tools available out there to test your domain authority. The obvious choice is to go with MOZ since they are the one who created domain authority.
It is super simple. You enter the website URL in the search bar, you click to make the search happen and voilà! You now have your domain authority or your competitor's.
If the website is fairly new, you won't get the number for the domain authority but you can see how many backlinks a website has.
On Neil Patel's tool, new websites will rank at number 1 and the number of backlinks will be different from MOZ's tool.
Here is an example. I used ClickBank's website to compare the results from different tools:
https://moz.com/domain-analysis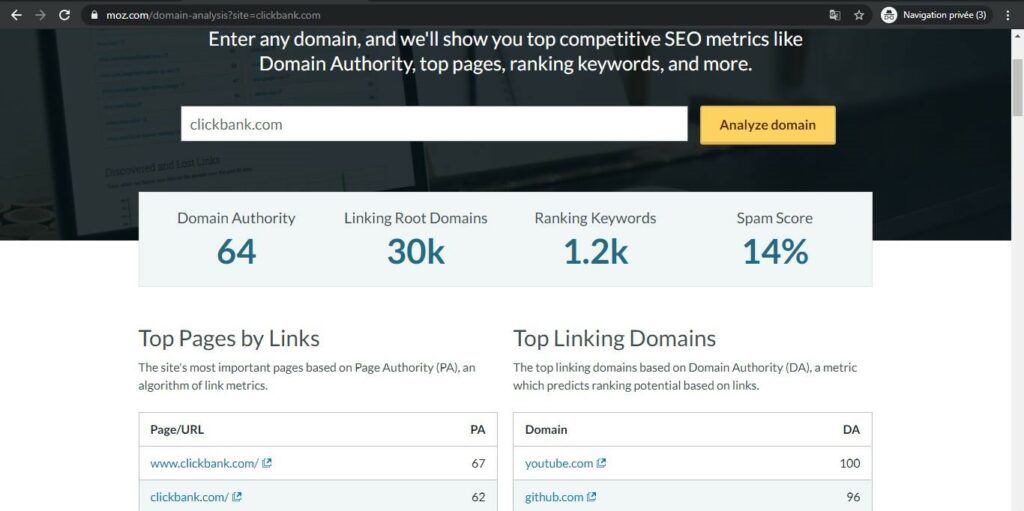 https://ahrefs.com/website-authority-checker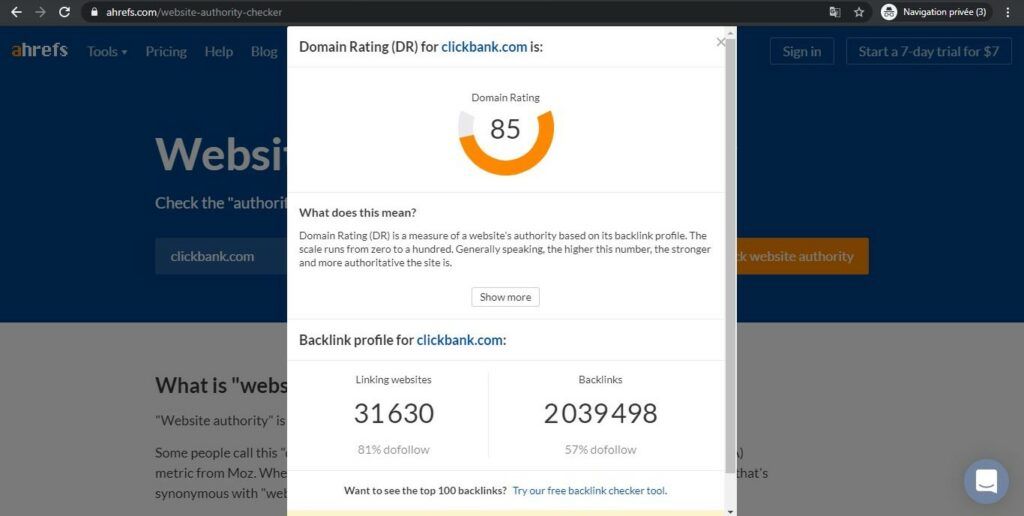 https://app.neilpatel.com/en/seo_analyzer/site_audit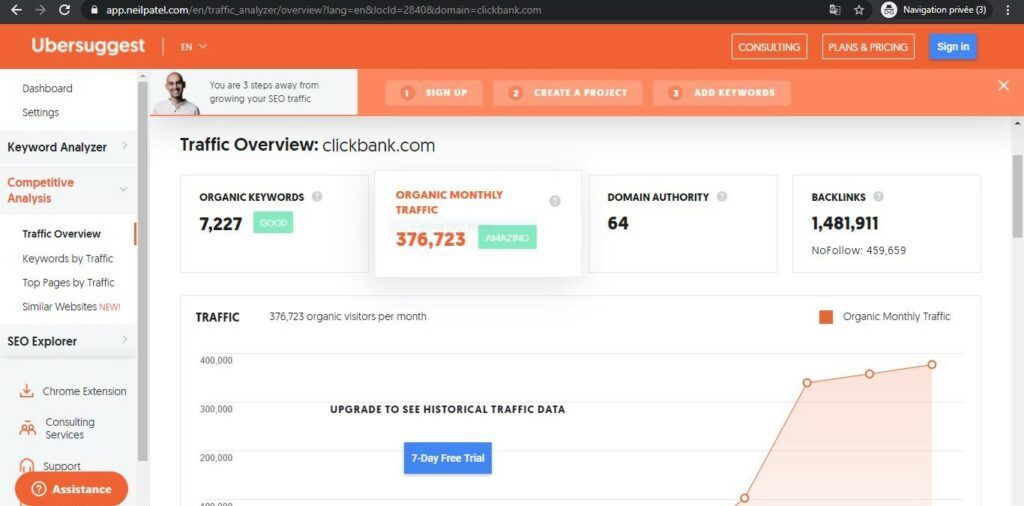 You can easily see that the results are different. There are many other domain authority analyzers that exist. I took 3 to show you how different the datas are from one tool to another. Only MOZ and Neil Patel's tool gave the same domain authority score for Clickbank.
Ahrefs results are different because they use other metrics to calculate domain authority.
In conclusion
While building your own authority within your niche is very important, building your domain authority shouldn't be a priority.
As your website authority grows, your domain authority will naturally rank higher, unless you create thin content.
For the ones who don't know what thin content is, it's content that doesn't give much value to the reader. When the content doesn't help the reader as much as someone who did spend time doing their research and writing a helpful article.
Your focus should always be to write good content. Be as helpful as possible and let Google work its algorithm on your content. When you do a good job, you are rewarded with a good ranking in Google's search results.
Cynthia