Do you have to become a valuable content creating machine to become successful with your business? No. You do have to create content and you choose where you want that content to be published.
If you have a full-time job, you have kids at home and you feel overwhelmed because you just have o much to do but even when you do things, nothing seems to progress, you are not alone.
Most people who start with an online side hustle do it part-time, when they have some free time in their schedule to work on their business.
Don't let the amount of work and tasks stop you from getting started. Keep in mind that nothing has to be perfectly done. It just has to be done as perfectly as it can be done at the moment and in the time allowed for that task. Don't overthink it, do it.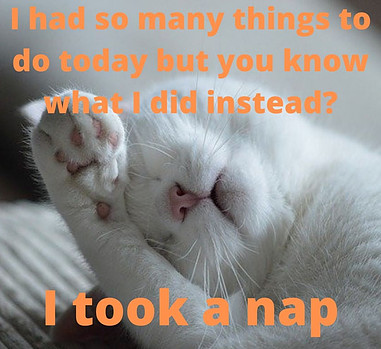 It is so tempting not to do anything since we have so much to do and we are so tired from work. Maybe it's because you are scared by the tasks you have to accomplish. Do you have an endless To-Do list where tasks keep adding up to the ones you haven't done yet?
I have one like that. I dread it. It's awful so what happens is that I just don't do anything on it and I do other things I like better.
That's a good way to be counterproductive. Remember, you want to build your online business. Of course there are going to be tons of stuff to do. It's normal.
Starting a business is always the most demanding part. You need to keep your focus on what you want to achieve, even if you have 20 minutes per day to spend on it.
*May contain affiliate links. Clicking on the affiliate links will most likely result in the same price you would pay elsewhere or you may get a special offer using those links.
How Do You Get More Productive?
First things first, you need to determine the tasks that are more important and that will bring your business more value. How do you know if a task is important or high value? It's quite simple, you need to build assets for your business. Let's focus on affiliate marketing here.
The first thing you have to do is learn on how to become an affiliate right? Yes, keep in mind that learning is just knowledge if not put in action. Keep your eyes on your goals. Do you really need an advance training on Facebook ads when you are just getting started?
Learn what you need to learn to get in action and start building your business. You want to start with Facebook ads? Good, you have the budget to do it, go for it. Don't spend countless hours getting training on Facebook ads. Learn the basics and one technique and see how it goes. If it doesn't work as well as you thought it would learn another technique.

This is what I like about step-by-step training. It forces you to take action at the end of every lesson, which is good since you are moving towards your goals.
Of course, for some, learning new skills like building a website and creating content is a waste of valuable time and would rather outsource those tasks to someone else. Maybe it's true for bigger businesses where you already are making money, but I feel like you can get a it from those new skills when you scale up your business. Learning is important.
Learn valuable knowledge for your business and take action using that new knowledge.
What Are the Most Important Things You Can Do?
It can be hard to decide what are the most important tasks to do for the day. You need to focus on building your business. If you are building your website, that should be a priority task. You want to create valuable content on a regular basis.
You can read more about creating valuable content in this article I wrote.
Creating content for the sake of creating content won't do it. The key is to give value.
To become more productive, find a way to build a routine for your business. To create new content, you might want to spend some time doing research. Put that in you daily task and dedicate a certain amount of time just for research. Then create a time window where you will write your content. You want to create new habits to become successful.
If you are using another method for affiliate marketing, like paid ads, you still want to create a business routine that blends into your day. You have tasks to do that are different from when building a website and building an audience on social media. Not doing your tasks regularly will lead to frustrations and maybe failure.
Consistency is the key to success.
Do you need a To-Do list? NO. All you need to know is your goal and how to get there. You can use any method you like to create new habits that will profit to your online business.
You can use your phone's calendar to make time in your schedule for you business. Do you prefer writing everything on Post-it? You can do that too. What you want to do is become more productive. Use anything that works well for you.
You like working under pressure? Good, set up deadlines for your task. You enjoy your timer? That's perfect, set the timer up to a certain amount of time you think you will need to finish a task. Even better, set the timer to finish earlier than what you thought it would take, you might be surprised on how much can be done in that amount of time.
Set up time limits for every task. Oh, you didn't have time to finish what you started? You can schedule another block of time dedicated to that task. With experience and practice, you will know how much time you will need to accomplish your task. Practice makes perfect.
Avoid Distractions
It is so easy to loose focus and get nothing done. When you are working on your business, try to prepare your work space to minimize distractions.
Choose where you want to work. Whether you prefer noisy or silent places, choose one that suits you, where you feel good and where you know you will be able to get the work done.
Easier said than done…
With kids at home it can be a bit more difficult to set a proper working environment. Well, everything is possible and I suggest you expand your time block for a task when you know your kids are around and you have to take care of them. It's better to get some work done, or to start something and not finish it right away than do nothing at all.
Stay away from social media! OK, when you are creating content for social media, you have to use them, but don't spend time looking at comments on posts, or wasting time reading an argument on some niche unrelated topic.
The more time you waste not creating value for your business on social media, like adding value to comments or on others' posts, is time your don't have building your affiliate marketing business.
Is it time to look at your emails? No! It's time to stay focused on your task and get it done.
Have You Heard of Batching? Or Batch Working?
It's a great method of work. It consists in doing all the tasks that are similar in one batch of work. Then you are done with it for the week or more, depending on what you are doing.
Doing all the tasks that are alike gives you more time to create valuable assets for your business.
Maybe you are already doing that without knowing it. For example, some students prefer doing all their homework on one day during the weekend.
Are you the kind of person who likes to prepare all the meals for the upcoming week? Cooking one day, eating all week.
It's easily transferable to your business. You can dedicate an amount or a block of time to create your emails for your subscribers on your email list.
You can create all your social media content in one morning, afternoon or evening for the week to come and not have to worry about what to post every day.
Shoot all your videos, if you want to make videos, on the same day when possible. You only have to get the set up done once and you are good to go. Otherwise, you could be wasting time getting ready every day to shoot your videos.
Same thing applies to your research and writing your content. Try to know what your topics of the week will be and schedule that time to be only for that purpose.
Automate
There is a very interesting feature in Facebook. When you have a blog or a business page, you can schedule your posts. How great is that? You create your publications for the week and then you schedule them and forget about it. Best of all, now you can use that same tool in Facebook and schedule your posts on Instagram too.
There are other tools and apps to help you with that. You can read about MeetEdgar in this review I wrote. I know. I'm just saying that I'm glad that I can automate on two platforms using a FREE tool in Facebook.
Use automation. Everywhere. If you have an email list, please tell me you have already written your emails for the next month or so, that they are schedule and ready to be sent.
It will help you get more productive since you won't have to worry about publishing on time on social media.
Mindset
When you are working on your business, you want all your focus on the task that you want to do. You need to empty your mind from everything else.
Again, easier said than done.
Remember, practice makes perfect. Find ways that work for you. You can try meditating, you can try visualization, exercising, yoga, respiration, anything really that would bring you in a focus-on-the-job-that-has-to-be-done mindset.
Forget about the previous task, forget about the next one. Be here. Get the job done.
Know your negative triggers that will stop you from getting the task done. Do you know what causes you to feel weak, unmotivated or what brings you down? Stay away from that!
You have tasks to do. You know you can do them. Go!
Do You Have Energy?
To be productive, you need energy. If you are tired, you won't be able to achieve your goals for the day. The real question is: are you really tired or are you uninspired?
Whenever I come back from work, I am with my kids and we have little time to do everything that has to be done. I'm totally exhausted.
When I get to my business, I have some energy left. I have to make sure I don't overspend time on growing it too late at night.
You still need to have a proper sleep schedule, to make sure your brain stays your friend when you need it most. Not only that, but eating healthy and exercising will help you keep your ideas fresh and your energy level more stable and be more productive.
There might be some time during the day when you know you are more productive. Try to use that to get more tasks done. Keep in mind that you don't have to get up early and have a super routine like, meditate for 30 minutes, work out for an hour, eat a healthy breakfast, and then get ready to work. Not everyone can have that kind of routine and it's not suitable for everyone.
If I had to do that, I would have to wake up and get out of bed at 4 in the morning, and yet, I would have to get the kids ready to go to school and I would have to go to my actual work and not be working on my business before I am back from work and I made sure the homeworks are done and everybody had something to eat for dinner. I'm not a morning person. I wake up at 5:40 and it's hard. On the weekend, I wake up between 6 and 7 and I get tasks done while my kids are still sleeping.
I feel like these methods of getting up early or working super late are suitable for single men who don't have children. They are mostly promoted by men. It is realistic for 90% of the population? Let me know what you think in the comments.
In Conclusion
There is no secret recipe. You do what you want. Try to cross off the list one task every day, starting with the most important ones. You can keep your To-Do list, but transform it in a Today list. You know how much time you will have to finish your work and every day can be a different amount of time, so find ways that help you produce more.
For social media content, I keep a word document open on my computer and whenever I come across an interesting article or post, I copy and paste the link there. When the time come to create my social media content. I already have ideas I grabbed during the week so I get the job done faster.
As you get into your business and as it grows, you will develop your own methods to become more productive.
Here is a picture that sums up what you need to do to become more productive.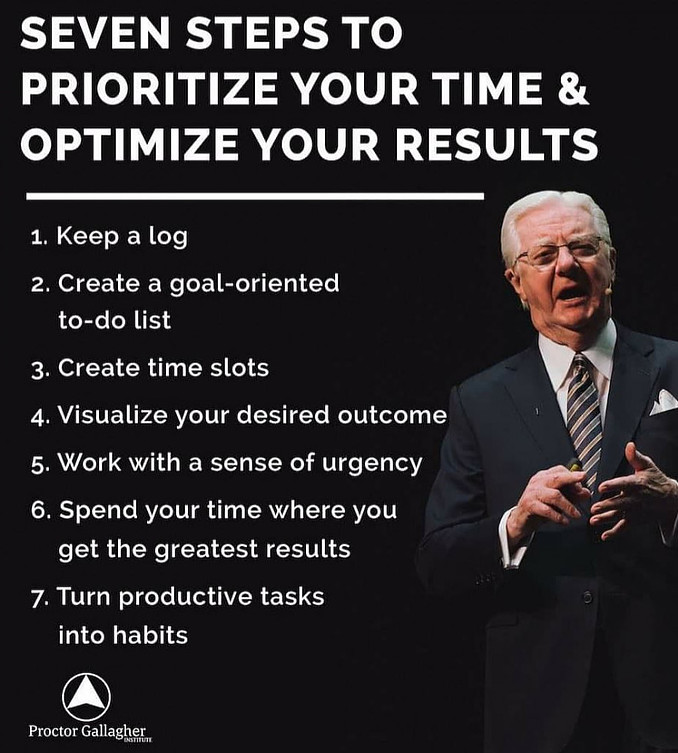 It's harder when you get started, but as time goes by, practice makes it easier. You then turn your recurrent tasks into habits that become your new routine. Once you have that routine in place, you will know what to do and you will be more efficient.
Cynthia