There are two main categories of businesses in the online world: e-commerce that sells physical products to people around the world and digital publishing businesses that mainly sell info products, like ebooks, courses and training, and services, like coaching and creating events.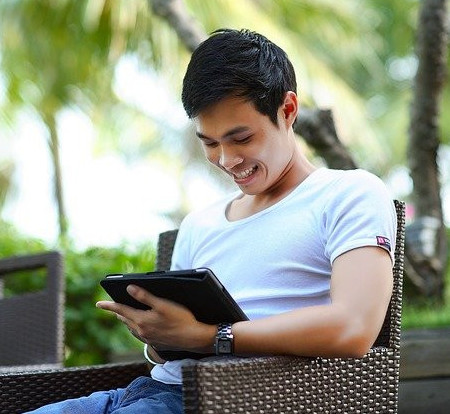 As the internet learning space keeps growing, now is a great time to build an online business that will sell digital products.
What is a Digital Business?
It's an online business that sells digital products. As simple as that. It can be anything from ebooks to webinars, coaching program, step-by-step training, apps, courses, mastermind, online live events, etc.
Like every other online business, the fun part of that kind of business is in the laptop lifestyle you can get once you start earning good money. You can work from everywhere as long as you have access to WiFi.
*May contain affiliate links. Clicking on the affiliate links will most likely result in the same price you would pay elsewhere or you may get a special offer using those links.
What Are the Pros of a Digital Business?
Other than the fact that you don't have to manage inventory or make sure the right product is sent to the right people, a digital business is super scalable. So unless you remain the only person working for your business, there is no limit to what you can do with your business.
What makes a digital business more scalable than a dropshipping business or an e-commerce? Well, the products you offer in a digital business are instantly available to the person who made the purchase. There are so many great offers you can create and promote that are complementary to the first offer that was purchased.
In e-commerce, you can grow, but the only way to grow is to sell more products.
With a digital business, when you create all your products, you keep 100% of the profits, just like any profits from other types of online business. Your margins are better than with e-commerce because your products are digital so they don't cost too much to create, mostly your time, and there are no shipping costs involved.
Physical products cost more to make and there are shipping costs related to them. The margins are much lower. It's normal. You can still make good money selling physical products.
With digital products, the affiliate programs will pay you a better percentage of the sale, it can go up to 100% commission depending on the product you promote. With physical products, you can expect anything from 1% to 10%.
It doesn't cost too much to get started, especially if you are using free traffic methods. That is also true for dropshipping. Keep in mind that you will need training and some money for ads if you want to invest in paid ads. So you will need some money to get started.
You can read more on how much does it cost the get started in this article I wrote.
** The worst time to get started as an entrepreneur is when you are totally broke.**
Is a Digital Business Beginners Friendly?
Yes. Since every entrepreneur starts from zero, if you are ready to put in the time and money needed to succeed, you can do it. Be ready to learn and to take action.
Be aware of what you already know and what you can do with a computer. You may have to work harder if you are not used to working with computers or if you are not comfortable using social media.
What Are The Possibilities With a Digital Business?
As you can stay small and sell ebooks on our own, you can also think big and build an empire.
You can also create your own information products, be an affiliate for those kind of products or you can have a licensing deal, like the consultant at Proctor Gallagher Institute, which means to pay to get access to all the programs and training available and for every client you enroll, you have to pay a licensing fee to the Proctor Gallagher Institute.
Depending on your goals there are many options available. Since many people who want to become online entrepreneurs want to earn anything from $5,000 to $10,000 per month so they can stop having their regular job, you may want to consider creating high ticket programs.
The key here is to have a starting point with your high ticket offer ( that will cost over $5,000) and then create other products that are mid ticket or lower ticket offers.
This really works well since many multimillionaires use that formula. You can have a look at what Tony Robbins and Grant Cardone have to offer. You will see a wide variety of price ranges for a variety of products and programs.
Again, if you don't know what you can offer, you can become an affiliate for high ticket products. One thing here is that it can be difficult for a beginner to promote high ticket products. You may have to do more research and find a company that will be willing to let you promote their offer.
Some affiliate programs or affiliate networks have conditions and restrictions. I feel like they could open up more to beginners. They make their rules. So keep in mind that it may be easier to get access to lower ticket products as an affiliate before you can promote high ticket offers.
No wonder why most training programs for affiliates talk about creating your own product. Then you really get in control of what you want to offer and you know the quality and the value you give to people.
If you are creating high value ticket offers, you may consider offering coaching, consulting, creating big events and building masterminds. These are not as scalable as selling online training where you can sell to a lot of people 24 hours a day.
You will exchange your time for money and if you want to be able to scale, you will need to build a team. If you don't want to scale, all you need is a few clients per month that will pay you $5,000 or more for your services.
Choose what you want to offer to your audience. See how you can help. Keep in mind that the more money you make, the more people you will be able to help, because you will be able to pay for ads and you will have a better reach.
When Do I Start Making Money?
You will start making money when you start making money. It all depends on the efforts you are putting in building your business, how long you take to learn what you need to learn to get started, what your niche is, who is your audience, how you promote your offers, if you use paid or free traffic, etc.
Nobody knows when you will start making money. It will take time because you need to learn how first. You need to experiment. You need to get better. That doesn't happen overnight. Give it some time and stop wanting to make money for yesterday.
Stop having crazy expectations that you will get rich overnight. Unless you win the lottery, it's not going to happen.
Are you ready to take action?
Cynthia